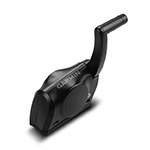 The Garmin GSC10 speed/cadence sensor sits on the chain stay and has two "sensors" that record both the stroke of the pedal (cadence) and the rotation of the rear wheel (speed).  The sensors are in fact reed switches that are activated each time a magnet passes them.  The cadence switch is, I believe, in the body of the GSC10 and the speed switch is in the arm.
So I have three of these things on each of my bikes and have not had any problems.  Tonight on my commute home my Garmin started auto-pausing whilst I was moving, recording a 0mph speed.  This was intermittent at first but then just stuck at 0mph.  The cadence was recording correctly which meant that the unit was successfully paired with the 800.  When I got home, I tested it further using the small test light on the side of the unit, which flashes red when the pedal passes and green when the spoke magnet passes.  The red light was showing but no green.  A change of the battery didn't help, nor did repairing the device.
So a quick search on the Garmin forums identified yet another common problem.  Yes, another.  It seems the reed switch in the arm can fail.  It's not easily replaceable (of course some have managed it) but as my unit is several years old I've decided to bin it and just use the GPS from the 800.
So if you get some more strange behaviour on your cadence sensor then this might be your problem too.